Teachers have perhaps the hardest job in the world. We have to deal with chaotic schedules and are up and talking all day. We must try and spread comprehension and knowledge to as many people as we can, even when they have no interests in the same.
There will even be students who make it their goal to disrupt class. Teachers must do excessive amounts of planning to prepare for all of this.
Imagine This in your Class
There are six factors that teachers must consider when planning for instruction:
1. Clarity
Teachers need to be clear in all that they do, whether it is instruction, content, or curriculum. Curriculums serve as the groundwork for the year. They are very important because they are catalysts for learning and keep teachers organized. Organization is as important to learning as the practice of ideas and skills, as opposed to retention of facts.
With good a curriculum we can do anything!
To get this clarity teachers need to first have a clear picture of what their ideal classroom ought to look like. Another important aspect is to make expectations clear.
My ideal classroom has lots of enthusiasm!!
It is important to check for understanding after presenting the material and curriculum to make everything as clear as they could be.
You can't blow someone's mind when they're confused…
2. Standards
Standards are what keep teachers accountable. They give lessons and curriculum a focus.
FOCUS!
They can be used as the academic destination and provide a way to measure what students have learned. Standards should also be at the bare roots of your objectives as a way to keep your class aligned.
Grow your objectives!!!
3. Resources and Support
Teachers have many important systems in place to aid them. This includes staff at the school. Your administration should work with you to get new technology and help you go to conferences to learn new techniques.
They can help make it all better
The other teachers at the school can be a helpful as well as they likely have had different experiences than you and offer advice.
Or make it all look easy
Of course there is also to internet! This endless source can give many resources and strategies! Use all of these resources to develop activities that align with your objectives.
The internet!
4. Environment
It is important to know what policies and strategies your school endorses so that you may keep consistency within the school. It is also important to build the classroom environment. Try and create a community of respect to encourage positive interactions between students.
We don't want any of this!
Experiment with placement to try and come up with a seating arrangement that exposes them to more ideas. Knowing the time frame available is important too, you must have a flexible classroom.
Always remember..
5. Each student is different!
We need to be aware of what works with each student; each one learns in different ways and has different interests.
Everyone is different, love them all!
At the beginning of the year make opportunities to communicate with individual students learn about their specific interests. Observe them throughout the year to discover what their academic strengths and weaknesses are.
Even if their strength is climbing!
Talk to teachers who had them in the past to learn what works best for students. Also try to help students be aware of their specific strengths and weaknesses. We should prepare various forms of assessment to give them the best chances possible to succeed and give them strategies for succeeding in standardized assessments. Bring in various activities and forms of instruction to see what works best with each student.
They should not feel like this!
6. Student engagement
Many students become bored during the school day.
This says it all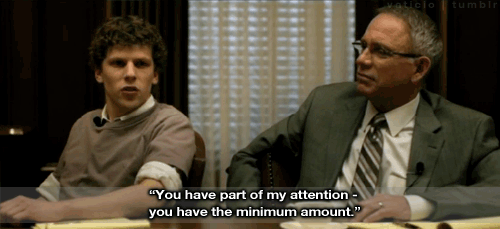 To promote learning we need to find ways to keep students motivated. Get their attention at the start of class with a hook or unexpected event. Build relevance from content into an idea or skill that has value to the student. Build their confidence with rewards for positive interactions and small successes to discourage learned helplessness. Also incorporate tasks that allow the students to show off, gain recognition, and develop a sense of accomplishment to make them feel satisfied with their education.
We want them to feel like this!
Also try asking questions that require more than a simple answer. Questions with depth help give students a true understanding of content.
Get them engaged!!!
At the end of the day if you do everything you can to prepare and help your students then at the very least this could be you…
Until you do it all again the next year..
References
Dean, C. B., Hubbell, E. R., Pitler, H., & Stone, B. J. (2012). Classroom instruction that  works: Research-based strategies for increasing student achievement (2nd  Ed.).  Alexandria, VA: ASCD.
Keller, J. (2000). How to integrate learner motivation planning into lesson planning: The ARCS model approach. Florida State University, 1-11.
Teaching Guide: Writing Lesson Plans. (n.d.). Writing@CSU. Retrieved April 30, 2014, from http://writing.colostate.edu/guides/teaching/lesson_plans/
Tomlinson, C.A. & McTighe, J. (2006). Integrating differentiated instruction and understanding by design: Connecting content and kids. Alexandria, VA: ASCD.